Things to do / Local Area
There are plenty of things to do in the local area. In summertime the warm sunny days will be best for lazing under an umbrella on one of the nearby beaches or relaxing on the veranda with a good book or a family board game. Gumtrees in the cooler months is a perfect base for walking the nature trails in the nearby mountains and forests, or a scenic drive through the spectacular limestone canyons in the area.
Sardinia is renowned for the beautiful beaches and crystal clear warm waters. The closest beach is Museddu (marina di Cardedu), a 10-minute drive from Gumtrees. This is a long (approx 2km) stretch of beach with lifeguards in summer. Pedalos, wind surfing equipments and other items are available for hire on the beach and there are several bars. There are a number of other good beaches nearby:
Cea beach – 20 minute drive.  Fantastic beach in a bay – very slowly shelving so great for kids.  On the new road to Tortoli, take the final exit after Barisardo and there is a junction just after to Cea on the right hand side.  Only downside is paid parking at peak times (2 euros for full day).
Spiaggetta – 15 min drive – past Museddu and before Su Sirboni – stony beach with gently shelving water.
Su Sirboni – 15 min drive – ex-private hotel beach that needs to be walked to (15 minutes). It is further south from La Spiagetta beach, a beautiful secluded spot.  Nice rocks and rock pools good for snorkelling.
Torre di Barisardo – 20 minute drive past Barisardo and with a historic tower.  Some nice bars and restaurants around here as well
L'Ultima Spiaggia – 15 min drive – on the way to Barisardo – has a large campsite
Il Golfetto – 21 min drive – take the road to Cea but turn left at the road you will see approx. 500m before final turn for Cea (after you have left the main road).  Lots of little bays with big rocks and gently shelving.  Very picturesque and good for kids but can be a bit cramped
Lido di Orri – 22 min drive – the beach of Tortoli – long and very popular – been here in 2015 and was very nice – very gently shelving so good for young kids – can take the road to 'Il golfetto' and carry on an extra km or so.  Please note parking is paid here so be careful.
Sarrala (Marina di Tertenia) – 30 min drive – very gently shelving beach – many locals have houses here but it is quite built-up (for Sardinia)
Porto Frailis (Arbatax) – 25 min drive – through Tortoli and head right- sheltered bay, pretty busy but with a couple of good restaurants in the bay
Scuba diving and snorkelling are popular given the clear waters and there are places where it is possible to hire equipment and go for a guided dive/snorkel – for closest see http://www.ogliastradiving.it

There is an excellent driving route up through the mountains west of the Pelau valley, which takes you through some of the most majestic scenery in Sardinia, showcasing the limestone buttes and canyons characteristic of the Ogliastra region. Along the way you will see small mountain villages, interesting views of a large wind farm and probably share the road with the local farm animals! An excellent place to stop for lunch is a restaurant in Sant' Antonio called Rifugio d'Ogliastra, which serves good local dishes including the traditional roast suckling pig, 'porchetta'.
Nearby there is a rural church set in a natural amphitheatre surrounded by limestone buttes and ancient oak trees. Here there are many interesting nature trails among the hills and rocky outcrops with excellent views and the chance to glimpse the local wild boars.
There is a really good website (in Italian) from the Sardinian tourist board which has an interactive map of walks etc – see http://www.sardegnasentieri.it/mappa-interattiva
We also have some tourist books with maps etc available to send via e-mail if you would like them – please let us know.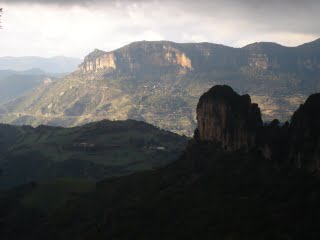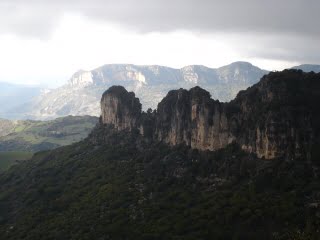 Perda Liana near Gairo, is a rocky pinnacle rising 1300 metres, which has been declared a national monument. From the Arcueri roadman's house on national route SS198, take the road to Villagrande and follow the edge of the Mantarbu forest. A short side road will take you to the base of the monument.
From Osini you can take an interesting drive along the 'Scala San Giorgio' route. The road takes you through a cleft in the limestone butte up to a plateau where there is an archaeological park, which has some good examples of nuraghi settlements.
The Geological, Mining, Historical and Environmental Park of Sardinia near the town of Seui, has been recognised by Unesco as a World Heritage Site.
The Cantina at Jerzu is the most important cooperative winery in the region, specialising in the Cannonau grapes grown locally in the Pelau valley. You can taste the various wines produced at the cantina, including white (bianco), rose (rosa), red (rosso), sweet (dolce) and even vinegar. There is also a small museum, which was just opened in 2007.
It is a 15 minute drive from Gumtrees just before you enter the village of Jerzu and is visible from a distance as the big white tower to the left of the road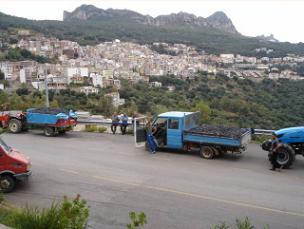 Arbatax, Santa Maria Navarrese and Northwards
Arbatax is a large town about 30 minutes drive north-east from Gumtrees. There is a busy port, shops and restaurants and the coastline is dominated by striking red rocks, which form popular diving boards for the local children.
A great day out starts from the seaside village of Santa Maria Navaresse north of Arbatax, where you can go on boat excursions to the idyllic sandy beach at Cala Luna and visit some fascinating underwater caves (grotte).